Monday, June 12, 2023 at 7:00PM
James Bridges Theater, Melnitz Hall, UCLA School of Theater, Film and Television
Directors Spotlight event showcases our emerging directors with some of the best films coming out of the UCLA TFT M.F.A. Program. We feature short films from Animation, Documentary and Narrative all produced within their individual Programs. The films are chosen through a lengthy process: first judged by their peers, then by alumni, and finally by a Blue Ribbon Panel of industry professionals.
Student Hosts: Merry May Ma and Nyelah Sawyer
---
Award Winner
Grand Jury Prize
Portrait/Kennedy Love-Green
---
Distinguished Alumni Award – Steven Canals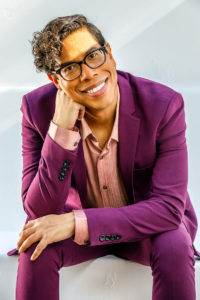 STEVEN CANALS is the Emmy-nominated and Peabody Awardwinning co-creator, executive producer, director and writer of the FX drama series, POSE.    A groundbreaking Queer, Afro-Puerto Rican creator, Steven's work on POSE has received a Peabody Award, two AFI Awards for TV Program of the Year, plus Emmy, Golden Globe and Critics Choice Award nominations for Best Drama Series, among many other accolades. Steven also received nominations from the Writers Guild Awards for 'Outstanding New Series' and the Imagen Awards for 'Best Director – Television'.    Steven is also the winner of the GLAAD Media Award for 'Outstanding Drama Series,' the 2020 Final Draft Awards' 'New Voice Award for TV,' and The Point Foundation's Horizon Award, recognizing a trailblazer who has taken a leadership role as an advocate of the LGBTQ community. He has also been featured on the cover of The Hollywood Reporter's Pride Issue, named to their list of 2020's '50 Most Powerful LGBTQ Players in Hollywood.' In 2021 The Hollywood Reporter named Steven one of Hollywood's '50 Most Powerful TV Showrunners.' Steven earned three 2021 Emmy Award nominations for POSE's third and final season: one as executive producer for 'Outstanding Drama Series', and two for directing and co-writing the acclaimed Series Finale. He is currently directing episodically for FX and Netflix, while developing projects that center the voices and stories of historically marginalized/underrepresented communities under his Story Ave. Productions banner.
---
The Films
---
Baby Teeth  – Cheyenne Woodward
Baby Teeth follows a reluctantly adult woman as she checks in with herself regarding the state of her mental health. The conversation takes place in the woman's head and devolves from a polite, if slightly awkward, chat into a passive-aggressive argument about decisions, mistakes, and personal responsibility.
–
California Light – Robert Denfeld
One filmmaker's exploration of natural light in California and its influence on people's lives.
Eden – Kayla Keener
In the midst of their busy days, Alice and Paul find a moment to connect.
Mango – Randa Ali
During a hot August in Cairo, Nadia struggles to mourn her estranged father and his mango tree.
Mother's Tongue – D. Wilmos Paul
Junior, an African teenager, ashamed of his accent, enrolls in a creative writing club, thinking he can make it through the semester without speaking… until he's faced with his worst fear.
Portrait – Kennedy Love-Green
Through the lens of his video phone and the camera's around him, a young boy grows up in South Central LA, learning to live, love
and grow– defining for us all how much life truly matters.
Winter in a Day – Liddy Salter
Bear dreams of experiencing winter instead of going into hibernation. On the last day of fall, her best friend, Fox, creates winter in a day for her.
Young People, Old People & Nothing in Between – Parida Tanti
7-year-old Juice has one mission this year: to help Grandma Lovely retain as many memories as possible in order to halt the onset of her early dementia.