Saturday, June 10, 2023 at 7:00pm & 8:00 p.m.
James Bridges Theater, Melnitz Hall, UCLA School of Theater, Film and Television
Animation Extravaganza is an all-inclusive, annual event for our graduate and undergraduate animators to showcase their finished films. From 3D to traditional, stop-motion to interactive, all facets of the medium are explored by M.F.A. students. It is a time where animators get to reap the rewards of their hard work and share their introspective, funny and awe-inspiring stories through animation. Come join us for a night celebrating our outstanding animation students and enjoy the films they have crafted during their time in the Animation Program here at the UCLA School of Theater, Film & Television. In addition, each year the students choose an inspiring recipient of the Crystal Anvil Award and honor their contributions to the field of animation.
Student Hosts: Courtney Chapman and Tyler Comeau
---
Program 1 | Into The Woods |  7:00pm 
An eclectic mix of non-M.F.A. films completed in the
Animation Program course 181C and the stop-motion class
Program 2 | Through The Forest | 8:00pm
Crystal Anvil Award Honoree, Student Awards and films from the individual voices of the
M.F.A. Animation Program: stop motion, 2D and 3D CG animation
---
Crystal Anvil Award Honoree – Amy Winfrey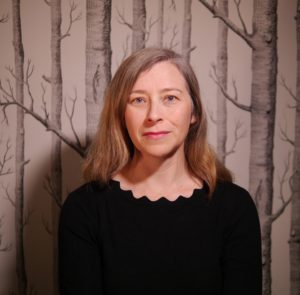 Amy Winfrey is the creator of the Nicktoons television series Making Fiends, and of the web cartoons Muffin Films and Big Bunny. Amy graduated from the UCLA Animation Workshop and got her start in the animation industry working on the first season of Comedy Central's South Park. She directed on Tuca & Bertie and all six seasons of BoJack Horseman. Amy is currently a Supervising Producer at Warner Bros. Animation. Throughout her time in the industry, Amy has made independent web cartoons and developed her own projects. Her animation has been featured in the Annecy International Animated Film Festival, the Seoul International Animation Festival and The World Animation Celebration. 
---
The Films
Program I : Into the Woods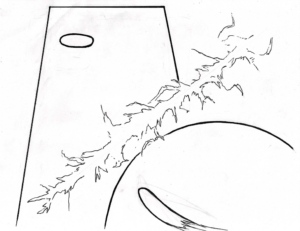 Shoot! – Simon Hernandez
Robot Battle. 19s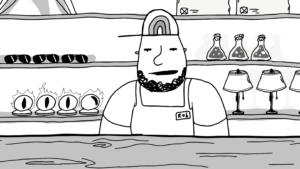 The Curio Truck – Nick Leivers
A truck selling curios, everyday knick knacks with a spasm of magic, makes a stop near Jimmy and Bill's neighborhood, where their friendship is put to the ultimate test. 4m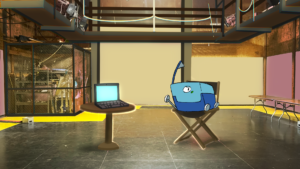 Special Dee-livery – Emmet Abrams
A day in the life of Dee, a food delivery robot at UCLA whose vivaciousness clashes with rude customers, fellow electronics, and everything else that the bustling campus has to throw at them. 3m
DFUC – The Party – Kendall Lowe
Two friends go to a party. 10m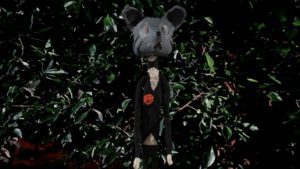 Catanova – Matt Haro 
 scaredy cat has to muster up the courage to ask his date out to the prom. 2m
Fantastic Tales from the Micro World – Matt Haro 
 Two amateur filmmakers present a series of vignettes showcasing the daily life of Earth's tiny beings. 3m
Cafe Conundrum – Katie La Cava 
Sassy fox meets his match at a coffee shop. 1m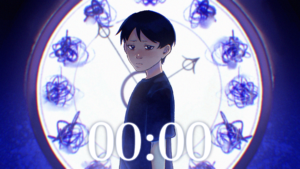 00:00 – Van Hofmaister 
Waking up in a familiar yet unnerving space, a young individual goes to open a mysterious door seemingly to nowhere. 2m
The Walls – Maya Gee-Lim 
Whenever two people touch, they open up a portal into a different world. 1m
Stitched – Ekim Karakurt 
 A girl moves back into her childhood bedroom to find that all her old toys are possessed by demons. 3m
Morning Bird – Ava Hansen
 A fairy stretches herself to her limits when she spends another night working late at the tea house for a bear's special order. 2m
The Knit – Yichen Pan
Grandma's knit, made with love. 1m
The End – Claire McGuinness 
Hiding in an old convenience store after the nuclear apocalypse, a young man named Dirk must decide whether to stay indoors forever, or venture out. But in this teaser, he's just bored. 1m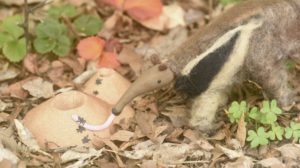 Antalina's Afternoon – Anna Ziser
A peaceful look into the daily life of an anteater. 1m
Program II : Through the Forest
Eden

Alice and Paul find a moment to reconnect in the midst of their busy days. 5m
Missed Encounters

A day in the life of a shy rabbit who must work hard to not have a day of missed opportunities. 2m
PIGEONHOLED

A pigeon gets wrapped up in the world of noir when he enters a secret jazz club hidden within the city's storm drain. 4m
Finders Keepers

 Two young women adventure to fin the answer to all their problems. 4m
A Rat's Nest

A little girl is struggling with getting rid of the rats that live in her hair. 1m
Mi Abuelita, La Campeona

When an elderly Mexican grandmother longs to return to her championship boxing days, her spunky granddaughter shows her a new way to return to the past. 3m
Boyfriend Material

 A lonely student finds love through the help of a magical sweatshirt. 4m
Half Dead Ed

Short "film-noir" based in Los Angeles. 1m
GRWM

An abstract variation on GRWM Tik Toks. 3m
Boxed Out

 2D animated slapstick comedy about two coworkers getting into a prank war at work. 6m
ATM

 A young man withdraws cash from an unusual ATM. 3m
How to make mooncakes

Two bunnies making mooncakes. 4m
Baby Teeth

A very young, so small, barely-old-enough-to-drive, 28-year-old girl checks in with herself around her mental health. 7m
I'm On the List

A person tries to sneak into a club. 2m
Sally Chooses Adventure

When left with no options, Sally draws the only conclusion possible: choosing her own adventure. 3m
Emma and the Talent Show

A young girl on the autism spectrum must overcome her fears in order to perform at the school talent show. 6m
Mice in Council

 When a cat poses a threat to a community of mice, they must gather to make a plan to survive. 2m