Saturday, June 4, 2022 at 5:30 & 7:00 p.m.
James Bridges Theater, Melnitz Hall, UCLA School of Theater, Film and Television
Animation Extravaganza is an all-inclusive, annual event for our graduate and undergraduate animators to showcase their finished films. From 3D to traditional, stop-motion to interactive, all facets of the medium are explored by M.F.A. students. It is a time where animators get to reap the rewards of their hard work and share their introspective, funny and awe-inspiring stories through animation. Come join us for a night celebrating our outstanding animation students and enjoy the films they have crafted during their time in the Animation Program here at the UCLA School of Theater, Film & Television. In addition, each year the students choose an inspiring recipient of the Crystal Anvil Award and honor their contributions to the field of animation.
Student Hosts: Liddy Salter & Marc "GIVE.ME.MÁS" Sánchez
5:30PM – Program I: An eclectic mix of non-M.F.A. films completed in the Animation Program course 181C and the stop-motion class
7:00PM – Program II: Crystal Anvil Award Honoree, Student Awards and films from the individual voices of the M.F.A. Animation Program: stop motion, 2D and 3D CG animation
Crystal Anvil Award Honoree – Jorge R. Gutierrez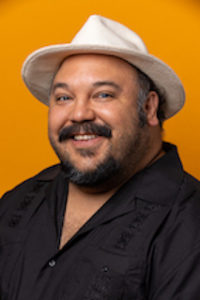 Emmy and Annie award winning Jorge R. Gutierrez is a Mexican animator, painter, voice actor, writer, and director. Born in Mexico City, raised in Tijuana, CalArts graduate, Gutierrez has completed various films, cartoons, and paintings exploring his love affair with Mexican pop and folk culture. Gutierrez was the director & co-writer of the Guillermo Del Toro produced animated feature The Book of Life for Fox which earned him a 2014 Golden Globe Award nomination. He was also the writer & director of the Emmy nominated Son of Jaguar VR short for Google. Along with his wife and muse, Sandra Equihua, they created the multiple Emmy Award–winning animated series El Tigre, The Adventures of Manny Rivera for Nickelodeon. Gutierrez most recently created the event series Maya and the Three for Netflix which recently won 2 Annie Awards, including Best Children's TV/Media award.
2022 MFA Student Awards
---
Most Innovative 
Bird's Eye View | Matt Sheehan
Best Art Direction 
Ecotone | Aston Kellman-Holmes
Best Story 
Special Delivery | Olivia Baylor
Best Animation 
Sirius | Xiangning Jie
Best in Show 
Winter in a Day | Liddy Salter
PROGRAM 1: Non MFA Films
Floria Huang – The Way Things Have been going lately
Summer Brotman – Grim's new friend. 
Julia Schmidt – Int. jims room – Night
Floria Huang – the Scar 
Allie Panariello – Spark Joy 
Shania Salentine – House Cat 
Georgia Smith – Tatum 
Maryam Mostafavi – First Love 
Elizabeth Smith – URSA 
Anna – Puttiing knowledge to Work – Stop Motion 
Ankita Nambiar – A Big Bunch of Nothing. 
Courtney Chapman – Home Cooked 
Niall Murphy – Third Eye Alan 
PROGRAM 2: MFA films
TAYLOR GOETHE – DRUNK FILM
TYLER COMEAU – EMO CROW
LIDDY SALTER – WINTER IN A DAY
OLIVIA BAYLOR – SPECIAL DELIVERY
ALEX VOUTSINAS – SURVIVING STATEN ISLAND
DEMITRIOUS TZAMARAS -EYES OF THE WARLORD
JESSICA ASUELIME – PATHS
FOROUZAN SAFARI – A LUNAR DETENTE
XIANGNING JIE – SIRIUS
JUSTIN VU – SOLSTICE
LORENA SANTOS -SELF COMPASSION
AUDREY HECTOR – KARL
MARC "GIVE.ME.MAS" SANCHEZ – SOMBRAS
ZAINAB BAKARE – GRANDMAS GARDEN
MONIQUE TUDON – LIFE AFTER DEATH
ALEX VOUTSINAS – UNDERSTANDING
JESSICA ASUELIME – BUBBLES
JANE JINGYU ZHANG – ECOTONE
MATTHEW B.W. SHEEHAN – BIRDS EYE VIEW