Wednesday,  June 14, 2017
Directors Guild of America
7920 Sunset Blvd.
Los Angeles, CA 90046
6:30 p.m. — Doors open
7 p.m. — Keynote and Screening
10 p.m. — Reception
We are excited to present the students who have been selected to screen at this years' Directors' Spotlight!
This year, we are pleased to present the Distinguished Vanguard Filmmaker Award to Reed Morano.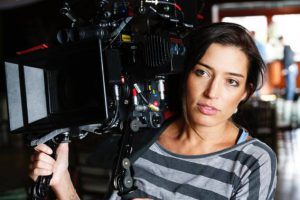 Reed Morano, named one of Indiewire's 20 Best Breakthrough Directors of 2015, started out as a regular on the festival circuit as a DP with numerous films at Sundance over the past 10 years including "The Skeleton Twins", "Kill Your Darlings", "Shut Up and Play the Hits" and the Academy Award nominated "Frozen River".
Reed went on to make her directing debut in 2014 with the drama "Meadowland", which premiered in competition at the 2015 Tribeca Film Festival and starred Olivia Wilde, Luke Wilson, Elisabeth Moss and Giovanni Ribisi. While directing, Reed also served as the DP on the film, earning an Independent Spirt Award nomination for her cinematography.  Clayton David of Awards Circuit celebrated the film's performances, praising Reed's direction and calling Olivia Wilde "electrifying" — "her finest acting performance of her career yet … simply astonishing," Indiewire's Rodrigo Perez called the drama "a visceral and often emotionally bruising examination of grief that possesses an engrossing gut-punch quality".  Reed has been directing select episodic television including AMC's HALT AND CATCH FIRE and Showtime's BILLIONS.
Most recently, Reed helmed HULU and MGM's THE HANDMAID'S TALE as Executive producer and director of the first three episodes of the series. The Handmaid's Tale received critical acclaim with Daniel Fienberg of The Hollywood Reporter writing, "depending on the moment, you might spot the influence of a Kubrick, Cuarón or Campion, but this is as original and confidently directed a set of early episodes as I've seen in years." Anticipating the premiere, Vanity Fair named Reed one of six TV Power Players to Watch in 2017.
Currently, Reed is in post production on her latest feature, I THINK WE'RE ALONE NOW, starring Peter Dinklage and Elle Fanning and prepping her next feature to direct, UNTITLED REED MORANO PROJECT starring Jeff Bridges and Diane Lane in October of 2017.
The films were chosen by the Blue Ribbon Panel of judges comprised of an esteemed, diverse group of industry professionals: Bonnie Arnold, Gillian Bohrer, Gary Lucchesi, Michael Miner, Jan Oxenberg, Alexander Payne, Chris Schmidt and Shelby Stone.
Each year, this event also celebrates an extraordinary filmmaker in the industry. Past honorees have included UCLA TFT alumni and Academy Award winners such as Francis Ford Coppola, M.F.A. '67 (Apocalypse Now, the Godfather trilogy), Alexander Payne, M.F.A. '90 (Nebraska, The Descendants), Gina Prince-Bythewood, B.A. '91 (Beyond the Lights, Love & Basketball), Lisa Cholodenko (The Kids Are All Right), Lee Daniels (Precious), Ben Affleck (Argo) and Spike Jonze (Her).
Al Mawqaf (The Incident) by Meedo Taha

At a bus stop near Beirut, a veiled Lebanese woman and a migrant Syrian worker get in a tumultuous moment and are arrested. They must argue their innocence in the face of the only witnesses: a bus full of women on their way to Koran school, each with her own version of the truth
Meedo Taha is a writer/director born in Beirut, at a time when his country was at war with itself. Perhaps because of that, his work explores questions of identity, with characters outside predefined social groups. An all-consuming desire to tell stories led him from a PhD in Architecture at the University of Tokyo to a life of filmmaking. He earned an MFA in Film and Television from UCLA, where his screenplays have received a Samuel Goldwyn Screenwriting Award and have been shortlisted twice for the Alfred P. Sloan Fellowship. He's currently developing A Road to Damascus, a feature film based on his mystery novel published in 2016. Meedo speaks Spanish, French, English, Arabic, and Japanese, but is still trying to make sense of this world with his wife Samira and son Cyan. When lost, he can be found at the local movie theater.
Outside by Laura Norris

After bringing home a monster he found in the woods, a lonely boy must keep it a 
secret from his mom or risk losing his only friend.
A northern Minnesota girl at heart, Laura Norris loves everything woodsy and cold. After getting her BS in Animation at DePaul University, however, she thought she'd check out the desert and move down to SoCal. While currently pursuing her MFA at UCLA's Animation Workshop, all her stories somehow end up back in the woods behind her house. She has big dreams of working as a storyboard artist in children's entertainment, but until then, she's going to keep making films about weird little kids and their misadventures.
Rest In Peace by Zheng Nie

Aggrieved by the sudden death of his oldest son, and troubled by the subsequent disappearance of his doctor, Du Guangcai, a 32-year-old factory worker, is misled by a shifty con man, Wang Junsheng, into a scheme to hire a large group of strangers to pretend as Guangcai's family members and then occupy the hospital until the hospital pays them a million yuan.
Zheng 'Nathan' Nie is a rising Chinese filmmaker who has dedicated his life to exploring many different aspects of filmmaking. Having lived in the U.S. for nine years, Zheng started developing a can-do spirit since his undergraduate study at Michigan State University. With very limited resources, Zheng and his fellow film students embraced the indie-spirit and made quality films. Upon earning his B.A. in Media Arts at Michigan State, Zheng moved to New York City for professional experience. He started as an intern in Simba Productions. He worked part-time for the company as both editor and videographer. During six months in Simba, Zheng has worked with many clients including major law firms, publication houses, and medical companies to produce their promotional/educational video products. He is pursuing his MFA in directing at the UCLA School of Theater, Film & Television. Grown up in Henan, a rural yet highly progressive province in China, Zheng hopes to bring light to expose the authentic lifestyle in China through his films.
Dear Death by Kate Isenberg

Stewball, a horse wasting away at his office job, writes a letter to Death and makes a decision that will change the course of his life.
Kate Isenberg is a Los Angeles-based writer and animator. After earning her BA in English from Harvard, she went to work as a fact-checker for MOTHER JONES magazine, in San Francisco. There, Kate began drawing comics featuring Stewball—the equine antihero with an existential dilemma—which she self-distributed on foot to bookstores, cafes, and Laundromats around the city. Alongside her media jobs, and a stint as a singer-songwriter, she continued to draw Stewball, who earned a following among underdogs of all ages. Kate's first Stewball film, DEAR DEATH, won a Matt Groening Production Fellowship and served as her MFA thesis at UCLA's School of Theater, Film and Television. Kate is now developing Stewball and his world of friends for television.
Boy In The Elvis Suit by Peter Fuller

An Elvis impersonator's first orgasm-via accidental hypnosis-uncorks years of repressed fantasy, leaving him desperate to feel it again. But happiness doesn't come that easy.
Peter Fuller hails from the strange and magical beach-town of Santa Cruz, CA, where he got his start in musical theater at a young age. After singing and dancing his way into college, he began writing, and graduated from UCLA's acclaimed creative writing program in 2010. As a member of the New Guard Theater company and 3rd Year MFA director at UCLA School of Theater, Film, and Television, Peter is constantly seeking ways to push the boundaries of creative expression. With a particular interest in Jungian psychology, fantasy, and cultural absurdity, Peter looks at each project as an opportunity to reveal the exuberant, dark, and ageless spirit buried deep within us all. He mostly eats burritos.
Invisible by Will Rowe

When a homeless mother suddenly begins to vanish from reality, she sets out in a desperate race against time to find someone who can save her
I was born in Raleigh, North Carolina. My parents are civil rights lawyers, my brother makes beer in Portland, and I make movies in L.A. I was first introduced to storytelling through Twilight Zone marathons with my dad. I studied filmmaking and philosophy at UNC Chapel Hill before moving to Los Angeles. I initially wanted to go into live-action filmmaking, but after learning of the supportive and wonderful animation community in L.A. decided to change my career. I worked in several different jobs while taking night classes at the Animation Guild in Burbank before applying to UCLA.
Along with my animation classes I am taking screenwriting classes at UCLA, and hope to go into story for animated features. To me, a good story is entertaining first, but also meaningful. I want to make films that reach a wide audience, but also deal with significant and important issues. My favorite kinds of movies are action/adventure and sci-fi.
Departare (A Distance) by Teodora Totoiu

Three women reunite on a rural farm and struggle to reconnect while mourning the loss of a loved one.
Teodora Totoiu is a Romanian-American filmmaker and member of the International Collective of Female Cinematographers (ICFC). She has recently completed her fourth graduate year at UCLA School of Theater, Film and Television with an MFA in Production, with an emphasis in Cinematography. Over the last four years, she has directed three short films and has lensed over twenty short narratives and three documentary feature films.