The Event: A Trip to the Moon
Saturday, June 10, 2017
James Bridges Theater, UCLA School of Theater, Film and Television
The Festival of Animation, or Prom for those in the UCLA Animation Workshop, is an all-inclusive, annual event for our graduate and undergraduate animators to show their finished films. From 3D to traditional, stop-motion to interactive, all facets of the medium are explored by M.F.A. students. Prom is a time where animators get to reap the rewards of their hard work to tell introspective, funny and awe-inspiring stories with animation. "One person, one film" is our motto at the UCLA Animation Workshop and Prom is that motto made reality.
New for 2017: two distinct programs!
Be sure to RSVP for each program you plan to attend
Program one: Into the Stars screening  5:00PM (doors open 4:30PM)
An eclectic mix of non-M.F.A. films completed in the course Animation Workshop (181C) and the stop- motion classes. Run time is approximately 45 minutes.
Program two: Over the Moon screening  7:00PM (doors open 6:30PM)
Films from the individual voices of the M.F.A. program; introspective, funny and awe-inspiring stores told through stop motion, 2D and 3D CG animation.
Come join us Into the Stars and Over the Moon for an animated evening you are sure not to forget!
Crystal Anvil Award Honoree 2017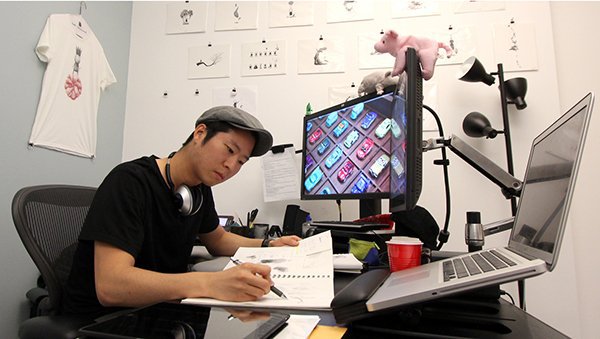 Erick Oh is a Korean filmmaker/animator based in California. His independent films have been introduced and awarded at numerous international film festivals including the Student Academy Awards, Annie Awards, Annecy Animation Festival, Hiroshima Animation Festival, Zagreb Film Festival, SIGGRAPH, Anima Mundi and more.  After receiving his B.F.A. in fine art from Seoul National University and his M.F.A. from the UCLA School of Theater, Film and Television, Oh worked at Pixar Animation Studios from 2010 to 2016 as an animator participating in Oscar-winning films including Brave and Inside Out. Oh recently joined Tonko House, founded by former Pixar artists Dice Tsutsumi and Robert Kondo, to direct The Dam Keeper TV series. In 2017, Oh was nominated for an Annie Award for his animation work on Finding Dory.
Join us for a reception on Soundstage Two and the Interactive Showcase on the Scoring Stage, after program two.